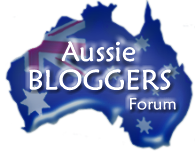 Are you an Aussie who loves to blog? Any topic, any skill level, any experience level - it doesn't matter. The
Aussie Bloggers Forum
is for you.
I found the forum recently and was surprised to see that the cream of Aussie bloggers was hanging out there. What a bonus for the rest of us. Imagine being able to ask questions and seek advice from our nations top bloggers? Imagine being able to get to know them away from their blog! People are in and out of the forum according to the demands of their home and blogging lives, of course, but there is always something going on.
I should mention that the forum is fun. There are some amazing personalities showing through from the slightly naughty to the outright hilarious. The Aussie Bloggers forum is the home of the
Lazy Bloggers Post Generator
, too. Yes, this is a little bit of blogging playtime.
We are currently on the lookout for new members. Why not drop in and check up out?